Filmmakers chronicle O.C. Browns uplifting story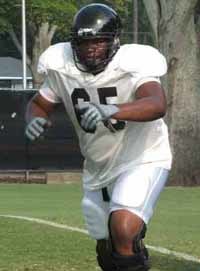 Rich Middlemas and Dan Lindsay admit they don't know much about Hattiesburg.
They know it's hot, and they know it's the home of Southern Miss freshman offensive lineman
O.C. Brown
.
Middlemas, a film producer, and Lindsay, a director, have been following Brown's story since July of 2009, documenting his rise from
an unknown prep athlete to a top-notch college football recruit.
"He was the subject of a story in the (Memphis) Commercial Appeal that chronicled the way he was basically found by these recruiting services," Lindsay said. "We came down and talked to him and started filming, and he became one of the main characters in our documentary."
Middlemas said what made Brown special were the circumstances from which he came to become a Division-1 college player.
According to Middlemas, after Brown's mother died when he was six, he was raised by his grandmother and during high school spent weeknights at an assistant coaches home.
"They couldn't find a tutor that was willing to go to his inter-city home," he said. "So he stayed with this assistant coach during the week, and became a well-rounded student."
More than that he also became a member of the family for Manassas High line coach Mike Ray.
Monday, the two filmmakers were in Hattiesburg collecting footage and information for the epilogue to the movie.
"In terms of our story," Lindsay said. "He's reached his goal. He's in a situation now where he can take advantage of this opportunity. He's risen above his particular situation he was in during high school, and
he's found another team and he's working to do what he can to help them."
While O.C. Brown is sure to gain some notoriety when the film premiers some time in 2011, the university might get some good publicity as well.
The documentary was filmed between July 2009 and April of 2010, and documents, as well as possible, O.C.'s recruitment to Southern Miss.
"We wanted to follow him on recruiting trips," Middlemas said. "But with the various NCAA rules that wasn't allowed. But we found out that O.C. is fiercely loyal. He received offers from schools that looked
better on paper, but he was always impressed with Southern Miss because they were on him first and their interest never waned."
Middlemas and Lindsay said they'd prefer their film debut at a film festival such as Sundance or South-By-Southwest, but they aren't sure what the exact date will be.
They did infer that no matter where the film debuts, there will be a screening on USM's campus open to fans, players and coaches.
"Besides his unique athletic ability," Middlemas said. "He is the epitome of the gentle giant. He has a huge heart, and you guys are going to have a great time getting to know him."
BigGoldNation.com is your most trusted source for breaking news and inside information on Southern Miss Athletics.
Enjoy this free read from BGN and if you enjoyed it
click here
and take advantage of a free 7-day trial of BigGoldNation.com's premium content services.
©2010 BigGoldNation.com, all rights reserved.